Our client was S+K MacDonald Ltd, a local construction company that was invited to enter a limited Design and Build competition for a new Primary School for the village of Strontian.
The small Highland community decided to build its own school after parents rejected the local council's solution to sorting out their ageing primary school. The village is on the Ardnamurchan Peninsula in the west Highlands and is a small community with a population of about 400 people.
Highland Council had proposed making improvements to the old school, before the community took it upon themselves to finance their own school building.
The idea for a community-built school emerged from local people's work with the Highland Small Communities Housing Trust, which had some land available. HSCHT then invited local contractors to submit Design and Build proposals.

The competition brief stated that the school building should be designed in such a way that it could be easily converted into affordable homes at some point in the future.

The site is located south of Ardnamurchan High School, within the village of Strontian. It is a Greenfield site, bounded by open moorland on all sides except to the north where the High School is located.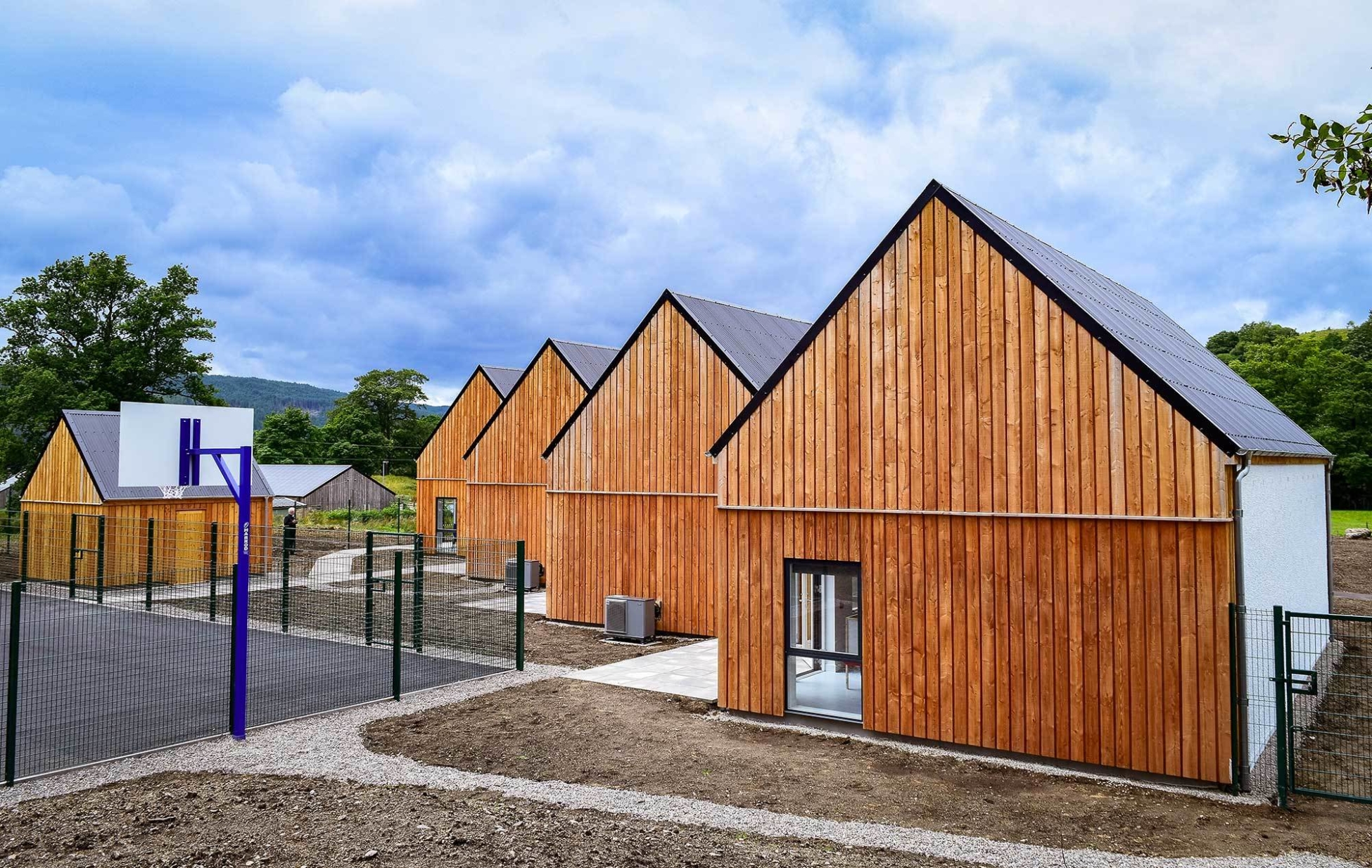 Apart from providing modern classrooms with auxiliary rooms the brief required that at the end of its use as a school, the building could be economically converted into four affordable houses for rent. We felt that the best way to provide that level of convertibility was essentially to work backwards – designing first, the four numbered houses in such a way that together they could also provide accommodation for a two-classroom primary school. By stepping the houses back and connecting them where they overlap, the design could both provide linked school accommodation and by removing the 3no linking sections provide four detached houses.
Domestic materials are used, sinusoidal metal roofing sheet, timber cladding and rendered walls. This will tie the four blocks together during their life as a primary school but are commonly used materials for modern housing developments within highland villages.