KDP Offices, Hillside House
Kearney Donald Partnership acquired a 2-storey house in 2005 with a view to converting the building into new offices for themselves. The main building is a 2-storey stone built villa with a dual pitched slate roof. The building dates from the early 1800's but had been extended over the years. We demolished the various extensions and added a new 2 ¾ storey timber frame extension to the east end of the house.
The building is adjacent to a Grade A listed Church. We were encouraged by the Highland Council Conservation Officer to make a modern statement with our office extension. We required sufficient floor area that dictated a 3-storey extension but with a relatively small footprint with 2 no. projecting 1st floor bays providing additional floor area.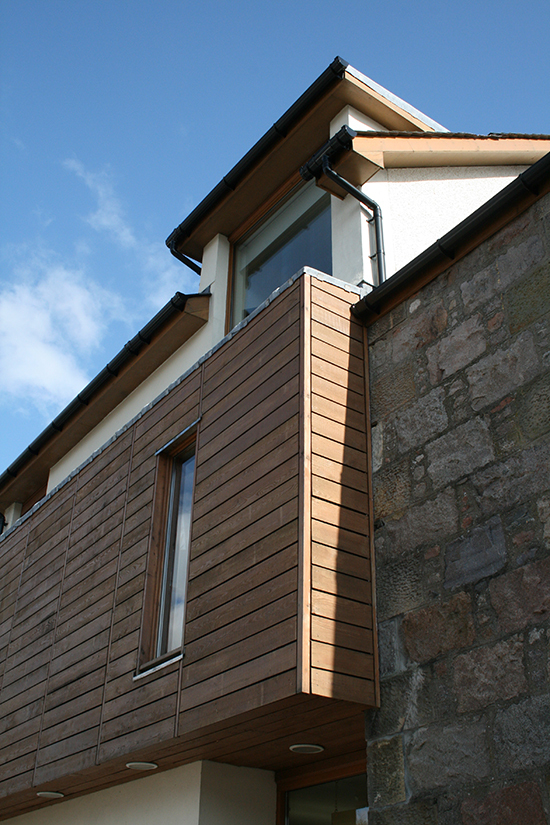 The larger bay to the front is "hung" from the 2nd floor joists and tied back at first floor level. This led to a lightweight external construction of 100mm thick timber frame clad with Siberian Larch on battens.
We wanted to create a strong geometric panel arrangement and therefore introduced rebated 70 x 70mm larch posts at 1150mm centres. Individual 22mm x 150mm bevelled edge Siberian Larch boards were fixed with a 10mm shadow gap all round.
The projected bay is roofed with code 5 lead with the soffit of the bay finished with the Siberian Larch boarding. Lighting is incorporated into the soffit of each bay.