Caledonian Court, Fort Augustus
Projects /
Caledonian Court, Fort Augustus
Fort Augustus and Glenmoriston Community Company Ltd procured funding to create 12 affordable dwellings to add to the housing stock in Fort Augustus. The Community Company were also creating local apprenticeships in the wider area. The idea being that the new houses would be filled by a mix of locals and the people taking on the apprenticeships to allow them to stay in the area.
The brief for the development was to create a development utilising aspect from the Scottish Government's 'Designing Streets' Policy Statement to design a more open cul-de-sac/courtyard which demoted the importance of the car giving priority to pedestrians and cyclists.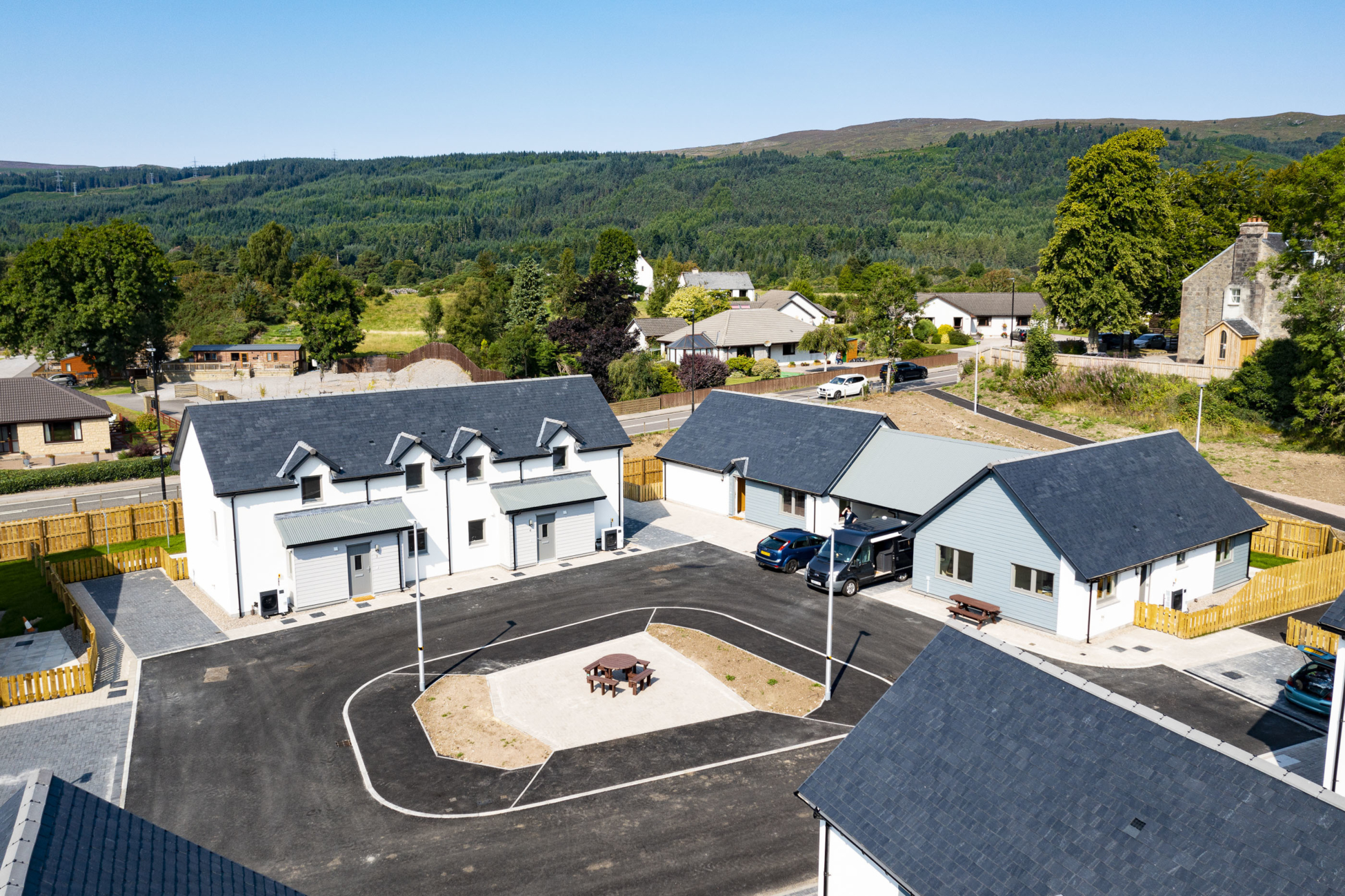 The 12 dwellings themselves were to be a mix of 2 and 3 bed flats, bungalows, and 2-storey houses to suit the varying needs of the potential occupants.
The site allocated for this development was an undeveloped section of land in the Glebe area of Fort Augustus, to the South of the main centre of the village. This site has ample connections to the village centre and its amenities and direct path access to the public walks within the adjacent forest.
Working alongside Cameron + Ross Civil & Structural Engineers, and Morham & Brotchie Quantity Surveyors, we created a design that provides 4no 2bed Flats, 2no 2bed Bungalows, 4no 2bed 2-storey properties and 2no 3bed 2-storey properties. This mix of properties gave an opportunity for a wide range of design between all the semi-detached blocks.
The 2-storey properties are all semi-detached units of varying elevational treatments. The 2-storey blocks are all orientated differently from each other to create distinct forms, the flats are visually contrasting from the rest of the properties and the bungalows are connected by a common covered parking area.
All the blocks are treated with a mix of smooth render and distinct cladding panels. A mix of 2no colours of the cladding was chosen to create more distinction between each of the blocks.
All the properties across the site are afforded with high levels of insulation, modern double glazing and are heated by efficient, environmentally friendly Air to Water heat pump systems.
The development, which was constructed by Compass Building and Construction Services, provides a courtyard development with a sense of place, where a shared sense of community can be established.